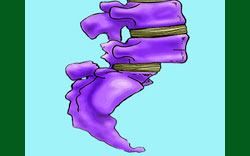 Spondylolisthesis is a spinal structural abnormality in which a vertebral bone has moved out of normal alignment with the vertebrae above and below. In essence, the bone has slipped, migrated or dislocated from its normal anatomical placement in the spinal column, potentially creating serious health consequences for the patient. Alternate diagnostic descriptions include listhesis, vertebral displacement, vertebral slippage or vertebral migration. If you are here reading this, then you know all this already…
However, there are many things about vertebral migration that you probably do not know and this is why we are here. We cover the diagnosis, causes and symptoms of listhesis. We also detail the different types of vertebral migration, the consequences of the vertebral displacement and the full catalog of possible therapy options that can be used to elicit relief. We provide a safe and completely free community where patients and their families can learn everything about listhesis and use this knowledge to feel and function better, as well as enjoy a more optimistic prognosis for the future. This is a real change from the usual "doom and gloom" predictions fostered by much of the spondylolisthesis treatment industry, mostly in an effort to get their hands on your hard-earned money.
If you are looking for honest, objective and enlightened information about vertebral listhesis, then you have found it. We promise to educate you, advocate for you and assist you in any way that we can. We invite you to enjoy this website and take an active role in your own care, as well as participate in the listhesis patient community that exists around the world. We are here to serve you, so please reach out to us on social media if there is a topic you want to learn more about. We are happy to oblige!
Sensei Adam Rostocki, Editor in Chief, The Cure Back Pain Network
What is The Spondylolisthesis Authority?
Welcome to Spondylolisthesis-Pain.Com, also known as The Spondylolisthesis Authority. We are a completely free web resource provided as a gift from The Cure Back Pain Network. Our mission is to fully document the listhesis experience from both first person and third person points of view. Basically, we write from the vantage point of the patient, as well as from the perspective of the professional caregiver. You will definitely find our articles different, helpful and certainly more factual than those on most other web properties. This is because we have no vested interest in your money, making us quite different than the doctors, chiropractors and medical products companies who directly earn their livelihoods from your pain.
We never allow financial motivations to compromise our editorial integrity. We will never market to you under the guise of information or compromise your trust in any way. We do not allow any advertiser to influence what we write or how we present our opinions. You might be shocked at the straight forward writing on this website, but will definitely come to appreciate it and benefit from it. There is nothing like the truth to really set you free from pain.
Please feel safe and comfortable here. We have been selflessly serving the needs of chronic pain sufferers for over 12 years and are the leading provider of honest and objective healthcare information on the web today. You will not find any other website like ours. Instead, you will just find the same old tired, recycled information from site to site. This antiquated and financially-driven content has never cured anyone. It merely exists to propagate a greedy and often clueless treatment industry. This is a fact that many of you already know and embrace in your hearts, if not consciously in your minds.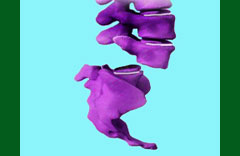 How to Best Benefit from The Spondylolisthesis Authority
Our major site topics are found in the navigation bar. In each section, we provide a variety of focused discussions to fully illuminate the subject matter. We strongly recommend reading all the essays in each resource section in order to get a full understanding of the larger topical focus.
We also provide a site map and a site search feature to find specific information which might be of interest to you. All of our content is found exclusively here and is not syndicated or shared elsewhere on the web. Furthermore, all of our content is written by our expert editorial board to insure quality and diversity of perspective across many healing arts and sciences. We encourage you to get involved in our discussions on social media, where you can interact with us, as well as with your fellow patients worldwide.